136.
736,358
446,729-744,548
06/29/2015
PAE: 446,729-744,548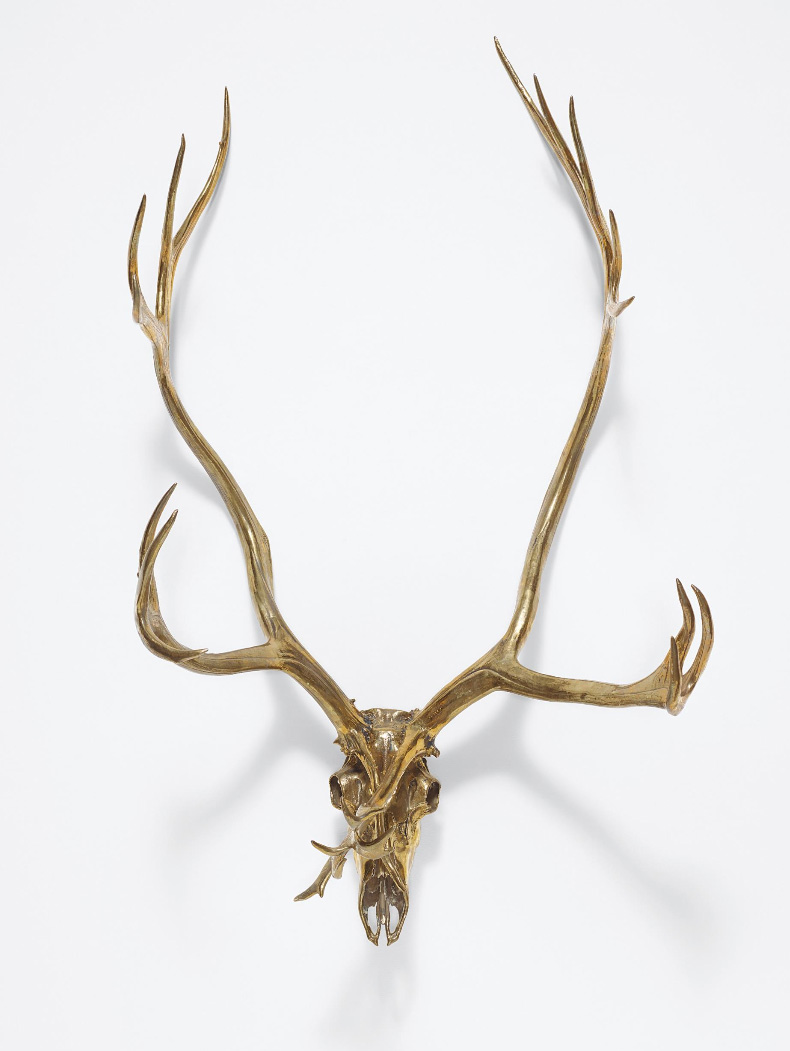 Sherrie Levine, Caribou Skull, 2006, cast bronze, 149.9 x 91.1 x 73.7 cm (59 x 35 7/8 x 29 in.) This work is number 6 from an edition of 12 plus 3 artist's proofs. © Images are copyright of their respective owners, assignees or others.
Sherrie Levine is most famously known for her radical challenges to authorship by claiming the work of other artists as her own through a strategy of "appropriation". Introduced to New York in an exhibition titled "Pictures", in 1977, Levine and other artists (including Robert Longo) complicated and contradicted the claims of a work's authenticity and originality. According to critic Douglas Crimp, who organized the collective, "We are not in search of origins, but of structures of signification: underneath each picture there is always another picture." In her 1980 series, "Untitled, After Edward Weston", Levine "stole" or "appropriated" a group of Edward Weston's photographs from 1925 and claimed authorship by re-photographing them with no obvious manipulation. Through this supposed act of "theft", Levine raises the question of whether this is truly theft or not. Theft requires a permanent transfer of property. An image can be seen and duplicated, but not entirely possessed. An image can be photographed, as Levine demonstrates. When rephotographed, an image still produces meaning, meaning that speaks more to the nature of an image situated in an image dense world.
In addition to Edward Weston, Levine has appropriated images from Walker Evans, Alfred Steiglitz, Cezanne and Van Gogh, as well as sculptures from Brancusi and Duchamp and sculptural premises from Georgia O'Keefe and Man Ray. Among Levine's contemporaries are Cindy Sherman, Louise Lawler and Barbara Kruger. Levine is currently represented by Paula Cooper Gallery in New York and Simon Lee Gallery in London. Notable solo-exhibitions of her work include "MAYHEM" at the Whitney Museum of American Art (2011-12). She lives and works in New York and Santa Fe, NM.